Archive for the 'gaming' Category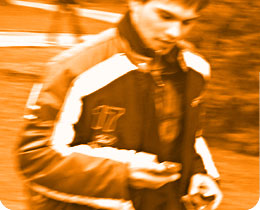 Tourality is a new type of game for your mobile phone that combines sporty outdoor activity with virtual gaming experience.
In contrast to normal sport simulations, you will face the real challenge of reaching geographically defined spots in reality as fast as possible and before your opponents.
The PS3's had a bad rap. Then it launched Little Big Planet and defined User Generated Gaming Content (UGGC).
Here's a customised level built using LittleBigPlanet's Level Editor:
http://tinyurl.com/6gd4x8
Now Sony have launched @Home – just in time for Christmas ;o). Beset by delays and still bound to have issues, it nevertheless promises a great deal, and from the following review shows a glimpse of what customisation will be possible:
Whilst he's deeply cynical concerning the communication features such as gimmicky chat up/one liners and stilted dance moves. The level of customisation, the detail in the environment and the sheer breadth of possiblity in the Mall really excite him and that says ALOT.
He's most animated and sincere when he discusses the possibilities the Mall offers in terms of fashion & style and when he goes bowling he highlights how easy and addictive the game is and how social a pastime it is (compared to the unrealistic dancing).
@Home official trailer

Unofficial trailer


"Playful is a one-day event all about game design – in
all its manifestations, throughout the contemporary media landscape.
The event aims to promote lively debate on the nature of games: what
they mean to different people – both inside and outside the industry.
Focusing on the creative and cultural dimensions, Playful examines game
design as both a discipline and craft, offering different perspectives
on its current and future possibilities."
Where: The Conway Hall, Holborn, London
When: Friday 31st Oct. 2008
This is incredibly exciting…
Hide&Seek, PunchDrunk, HP & seeper have joined forces to create a new kind of experience…more soon.
*Multi-platform Immersive Theatrical Experience

Coming this weekend is the Hide and Seek Pervasive gaming festival taking place at London's SouthBank Centre and across the rest of London.
Hide and Seek is a festival of social games and playful experiences, running in London from the 27th to the 29th of June 2008.
The festival celebrates the creative and social aspects of gaming, and invites artists from all disciplines to experiment with game design as a creative tool. This year sees projects from Blast Theory, Gideon Reeling (who were behind the Masque of the Red Death performance after parties on Fridays and Saturdays if you went), Momus, Jane McGonigal, and Coney, as well as parties, seminars, and a bunch of low-tech, high-fun games from the Sandpit.
The focal point of the festival is the Ballroom at the Royal Festival Hall, where players can sign up for the big events, hire out devices to try GPS gaming, play Sandpit games, and interact with a variety of weird and playful installations.
There's an incredible programme of events and social games to play during the weekend.
Sign Up to some of the following games:
Gold Bug Dissected produced by PunchDrunk, the masterminds behind Masque Of The Red Death.
Snapshot City Throwdown: New York vs. London – a world wide photographic treasure hunt that will open your eyes to the Extraordinary. Everyday. Everywhere.
Or take a look at last year's event below:
Bring a public park alive with a swashbuckler's adventure complete with virtual loot waiting to be unearthed. Tour the Tower of London alongside ghostly guides who reveal the history within. Conduct disaster simulations for emergency responders on real city streets.
Mscapes (short for mediascapes) are digital experiences directly related to where you are. Running on GPS-enabled mobile devices, they change as you move around, enriching the physical world with a layer of digital information, services and media.
Developed in partnership with HP IdeaLabs, MediaScapes are cool for two reasons:
a) The storytelling matters
b) The breadth is infinte
You can create a fictional espionage game or an educational guide to a city using exactly the same piece of software and target different people.
More can be found here, here and here.
Here's a video of a game played across London:

The 3rd and final type of game that I was reminded of is Cops & Robbers – The Board Game.
The object of the game is to be the first squad car to catch Slippery Sid.
The notorious criminal Slippery Sid has escaped from Jail and is hiding somewhere in the City. Hunted by Police, he is on the move from one hideout to another. You have a Police Squad car and you must try and trap Slippery Sid on one of his hideouts before he escapes to another.
The playing area represents the street plan of the City: these are 25 colored sites where Slippery Sid may be hiding.
The arrows on the road indicate one-way streets and the telephone handsets mark the places where you can get a radio message from Police Headquarters. Some of the radio messages will give you clues about Slippery Sid's hideout.
There is an element of strategy to Cops & Robbers. Despite having more cops on the board they know less and can only gain more information at specific designated places on the board.
The next type of game I thought about when it came to MMTRG was The Prisoner. The Prisoner was a cult British 60s TV series with allegorical undertones and a very thoughtful and considered plot – which is vital.
It follows a former British secret agent who, after abruptly resigning from his position, is held captive in a small village by the sea by an unidentified power which wishes to establish the reason for his resignation.
During the entire 17 episodes, he is never identified by name and the exact nature of his job is never explicitly indicated, though numerous episodes provide clues. After resigning his position, he is kidnapped and held prisoner in a small, isolated, eccentric seaside resort town known only as the Village.
With the concept and setting laid down, such as it is, the natural premise for a mobile game would be to have a contestant 'delivered' into a particular scenario and have the audience, with the help of the Internet, either attempt to track him down or, more interestingly, helping him to escape.
Interestingly, in researching The Prisoner, I found out that ITV is planning to re-shoot The Prisoner for a more modern audeince – what kind of interactive or digital twist they're planning to give to it, if any, is TBC…